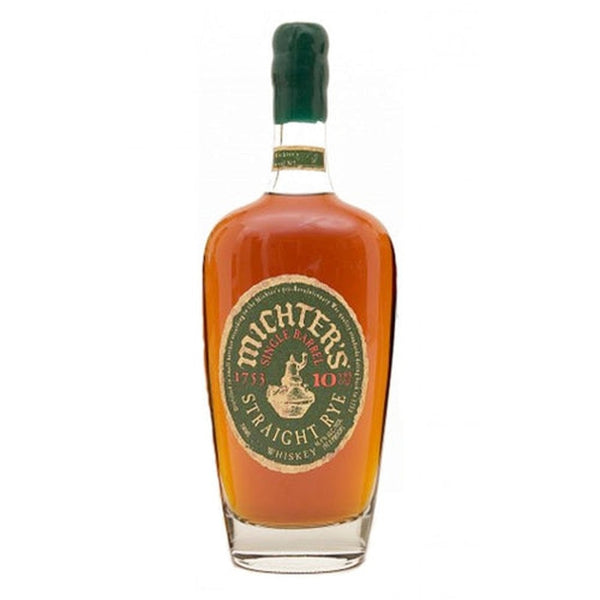 Michter's 10 Year Straight Rye 2016 - 750ml
Vital Stats: B10 year straight rye whiskey. 46.4% ABV
Appearance: Deep fossilized amber. Beautiful and glowing.
Nose: Tantalizingly sweet from afar, then boozy and rich as you get near. Roasted fruit-like nuttiness with a pleasant sour smoke undertone. Lemon and orange peel help brighten it, making it round and inviting.
Palate: Flavor and pleasant heat are initially slightly overwhelming, but the second sip wakes up the palate and nuances emerge. Baking spices like vanilla and cocoa bean are evident. Similar to the nose, a fruit-like quality comes through, but with vegetal toasted almonds. Big and mouth coating, it is incredibly easy to sip. Caramel transitions into butterscotch on the long finish.
92.8 Proof. Made from "High quality" American Rye and aged for 10 years in fire-charred new American oak. 
Appearance: Crystal-clear pour of robust amber liquid with a medium viscosity. Complex, webby legs coat the glass interior. Bright and bouncy, this whiskey sees almost no separation at the edges and possesses a near pinkness under natural light. Remarkable in its beauty.
Nose: First aromas inhaled are huge, a virtual arena in which the earthy, spice character from the rye battles the dessert-like scents from the extended barrel-aging. There is a citrusy note present from the rye, which when crossed with the oak, emerges as candied orange peel and freshly-baked angel's food cake. The subtle smoky spiciness reads more like quince or bruleed banana peel than black pepper, and works well with the overall more rounded, less sharp skew that this rye whiskey presents.
Palate: Whereas the nose is inviting and silky smooth, the first taste clobbers you both with a dry woodiness and a complexity of layered alcohol and earth tones molded in to a hefty, luxurious dram with a thick-but-not-sweet mouthfeel. Deeper analysis pulls out a tannic note of singed hay, a slight ester profile with hints of tropical fruit, and a wood-laced finish in each sip that can best be described as beefy and burly.